Weekly rentals in Summer with both shorter and longer stays in Fall, Winter, and Spring
We will work with you to schedule your stay around COVID. Just give us a call.
Seanook is built on its own rocky point sequestered on the shore of Linekin Bay. It is grandfathered so close to the ocean that the tide comes in under and around it. Reserve to enjoy this rare historic experience year-round. Four decks, + dock June - October.
Current Specials
---
Seanook has availability starting November 14, 2021. Snuggle in and enjoy in a cottage by the sea, our cabin rental in Maine!  Why not "work from home" from Seanook?   Give us a call if you need to get away!  207-633-6093. 
You will find Boothbay to be a foodie's paradise with most restaurants open, though with some COVID restrictions!  Or, Seanook is the perfect Boothbay vantage point to watch the water and migrating wildlife while cooking your own wonderful food.   Hannaford groceries, Pinkham's
Gourmet Seafood Market, and Atlantic Edge Lobsters offer the makings for delectable meals. If you live somewhere else in Maine, or in Vermont, New Hampshire, Connecticut, Massachusetts, or Rhode Island, come for a change of scene.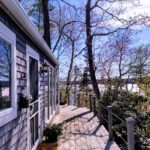 Paradise Cottage is full until May 25, 2022.
We do our own booking, so give us a call at 207-633-6093 or email [email protected], if you need a respite.  
New State COVID Guidelines are as follows.
Effective May 1 the plan:
People from any state may enter Maine.
Those who are not 14 days beyond their last vaccine will still be required to practice social distancing, mask-wearing, hand washing, etc.  Maine's CDC recommends that unvaccinated guests continue to wear face coverings, which may be removed only when seated at your table at a restaurant and actively eating and drinking.  People who are fully vaccinated can basically return to normalcy but should have a mask handy.  Health care facilities still require them
Consult the Availability Calendar for either cottage by hovering over its name on the white menu bar at the top of each page to show its drop-down menu.  Then CONTACT us directly by phone or email.  WE DO OUR OWN BOOKING.  We will be practicing contact-less check-in during this period, but we still plan to greet you from a distance, or you can come to our Studio and we will chat with you from upstairs.
Read More
Recent Blog Posts

March 19, 2019 |
At Paradise Cottage, on Paradise Point Road in East Boothbay, contemplate by relaxing water views, nestled into the woods and gardens from the sitting/dining area on the porch, or borrow our kayaks to paddle at the head of Linekin Bay. Quiet and sequestered, yet only 3 miles from Boothbay Harbor. Floor to ceiling windows bring the outside in, or enjoy private outside living. Spring is also an exciting time to visit Mary Ellen's gardens. It is such fun to watch little things poke through the ground and then expand. All the while birds are announcing their joyous return as they migrate back, and leaves are emerging from seemingly lifeless branches. Open your window at night...
Read More